As the lush hues of autumn take center stage and a crisp breeze whispers the arrival of fall, BeachCandy beckons you to redefine your wardrobe for Fall 2023. In this season of transformation, our latest collection transcends mere swimwear, introducing you to organic wonders that seamlessly transition between the shores and beyond. From luxurious cover-ups to chic one-pieces, let's delve into the top 5 must-haves awaiting your discovery.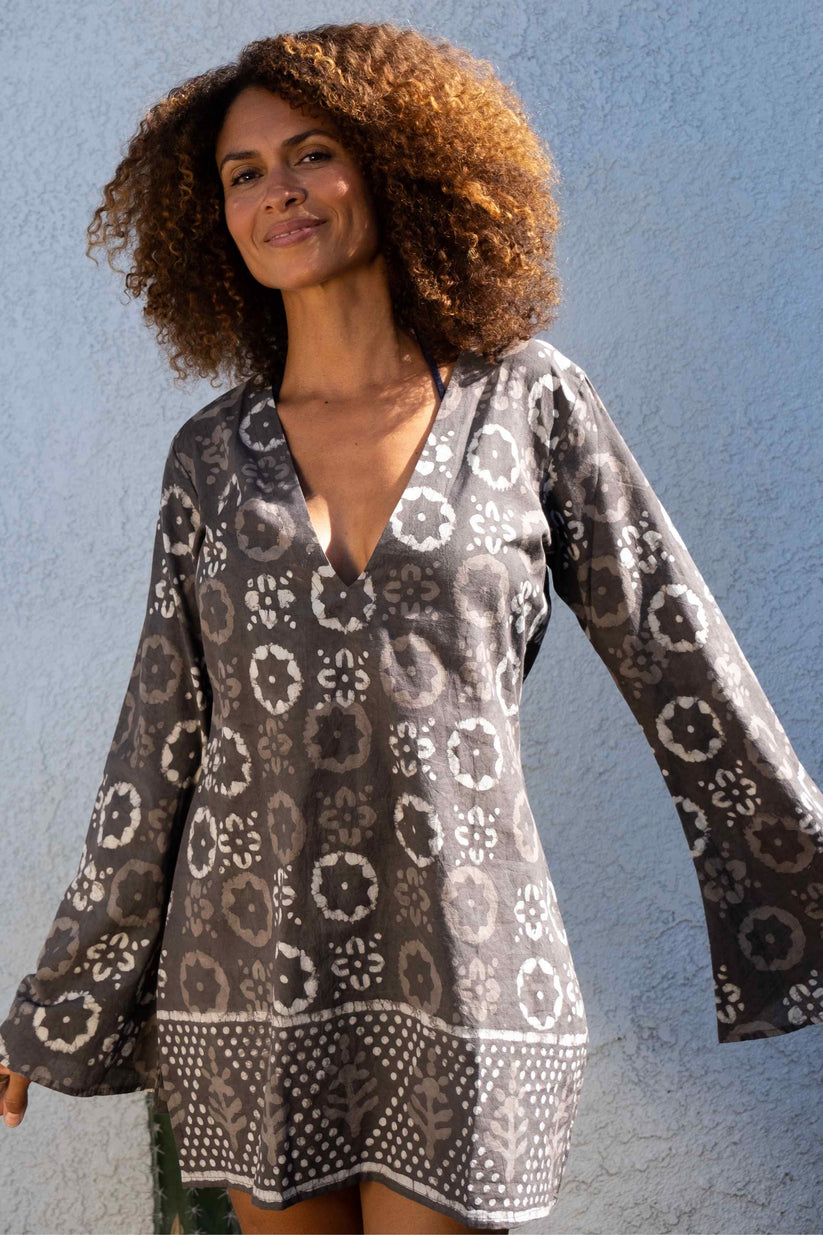 1. Sustainable Luxury: Exquisite Organic Cotton Long Sleeve Tunic
Wrap yourself in the opulence of sustainable luxury with BeachCandy's Organic Cotton Long Sleeve Tunic. This garment stands as a masterpiece, beautifully blending style, sustainability, and ethical craftsmanship. Handcrafted in the heart of India by skilled block printing artisans utilizing organic plant dyes, this tunic embodies the essence of non-toxic fashion and the principles of the slow fashion movement.
Crafted from 100% organic Indian cotton, employing ancient block print techniques and Ayurveda organic plant-based dye traditions, this tunic features flare statement long sleeves. Beyond its aesthetic allure, it's a versatile piece that goes beyond the beach; it's a bodysuit, offering our famous fit range from S to XL. This tunic doesn't just cover; it embraces a lifestyle, where comfort and style seamlessly merge.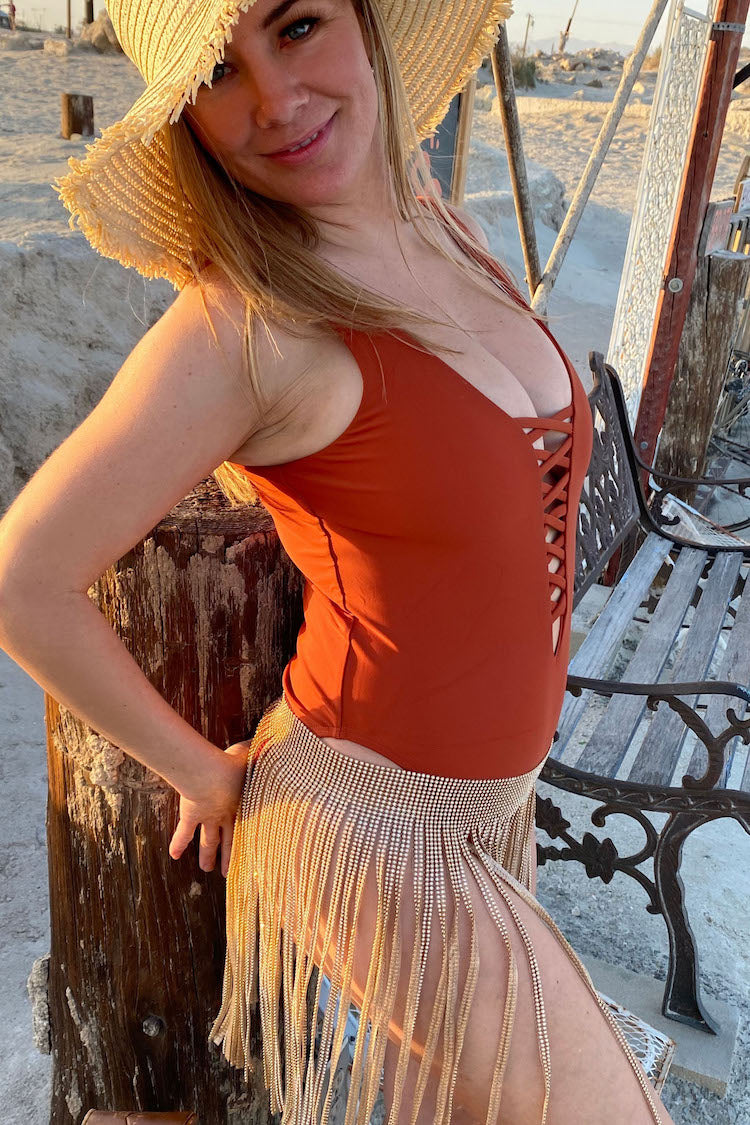 2. Versatility Redefined: SAMANTHA Sexy One Piece Swimsuit
Step into the realm of versatility with the SAMANTHA Sexy One Piece Swimsuit, a marvel that transcends the conventional boundaries of swimwear. More than a swimsuit, it's a supportive and sexy one-piece wonder. With a high cut at the hips and full coverage at the rear, the corset-style lacing on the front and back adds an alluring touch.
Made in the sunny landscapes of California from 80% Nylon / 20% Spandex, this swimsuit ensures a luxurious feel and unparalleled support. Experience our famous fit range from S through XL, making it a seamless addition to your autumn wardrobe. Transition effortlessly from the beach to beyond; it's not just a swimsuit, but a style statement offering both security and allure.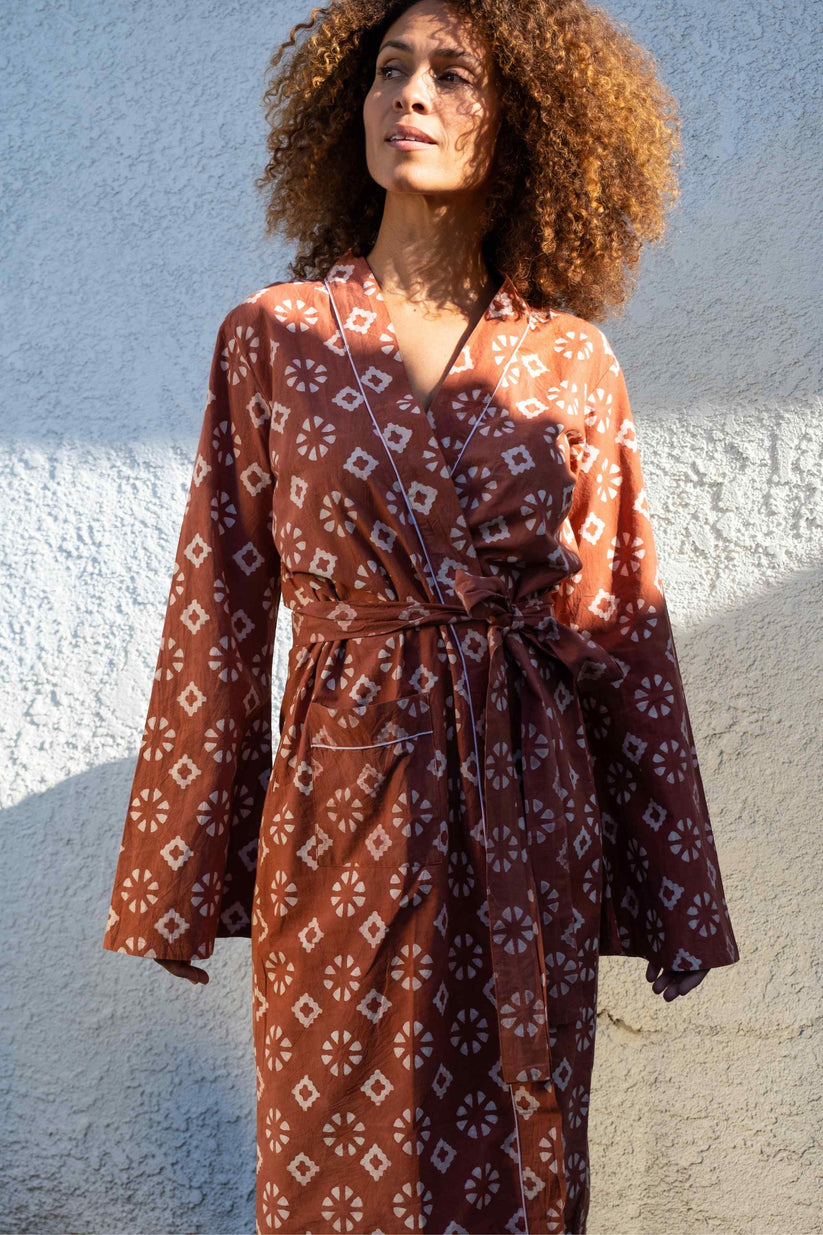 3. Fall Elegance: Organic Cotton Robe
Fall fashion takes center stage with the Organic Cotton Robe, a masterpiece that embodies craftsmanship, sustainability, and the timeless elegance of ancient Indian block print techniques. Crafted from 100% organic Indian cotton, handcrafted with ancient block print techniques and Ayurveda organic plant-based dye traditions, this robe is a sartorial masterpiece.
Featuring a cropped mid-calf hem and flared kimono sleeves, this one-size-fits-most robe offers unparalleled comfort, purity, and an eco-friendly touch to your fall ensemble. It's not just a robe; it's a statement piece that encapsulates the richness of tradition and the embrace of modern sustainability.
Also check out our brand-new Hemp & Organic Cotton Lounge Set!
4. Cozy Accessories: Elevating Your Swimwear Ensemble
Elevate your swimwear game with our curated range of cozy accessories, meticulously chosen to keep you warm and stylish throughout Fall 2023. Envision wrapping yourself in a plush, oversized beach towel or adorning a snug knit beanie to enhance your beach ensemble. These accessories, beyond offering comfort, introduce a touch of luxury to your beach outings, making every moment a celebration of style. 
Shown above: Turkish Towel Swim Cover Up.
5. Conscious Consumerism: Organic Tote Bags
Indulge in conscious consumerism with our range of Organic Cotton Totes, crafted from materials such as organic cotton grown without synthetic pesticides or fertilizers. These reusable bags are more than accessories; they are symbols of eco-friendly choices, reducing single-use plastic waste and lowering carbon footprints. Available in various styles and sizes, they showcase our commitment to ethical production and fair labor practices.
Discover the Organic Wonders at BeachCandy
BeachCandy Swimwear redefines the boundaries of swimwear, transforming it into a year-round affair that transcends seasons. With our Fall 2023 collection, immerse yourself in the warmth of luxury while embracing the beauty of autumn. From the opulence of cover-ups to the versatility of one-pieces and the allure of nature-inspired prints, BeachCandy has curated a collection that speaks to everyone eager to make a splash in Fall 2023.
Shop our Be the Change Collection of Organic & Sustainable Clothing & Accessories.
Don't miss out on our must-haves. Explore our website today and upgrade your autumn wardrobe with the latest in swimwear trends. Discover the organic wonders of our collection, where every piece tells a story of style, sustainability, and elegance. Dive into a world where swimwear becomes a celebration of conscious fashion and a nod to the timeless allure of the season.