The sun is shining, the beach is calling, and it's time to revamp your swimwear collection. If you're on the lookout for the perfect bikini that combines style, comfort, and quality, you're in the right place. Today, we're exploring the world of BeachCandy Swimwear and their exceptional range of two-piece bathing suits. With our dedication to craftsmanship and design, BeachCandy Swimwear is a go-to destination for women seeking the perfect beach attire. In this blog, we'll delve into the essentials of bikini shopping and showcase some of the best offerings from BeachCandy Swimwear.
The Perfect Bikini Shopping Guide
Before diving into BeachCandy Swimwear's offerings, let's first understand what makes for a perfect bikini shopping guide. Here are some tips to help you make the right choice:
Know Your Body Type: The key to finding the perfect bikini is understanding your body type. Are you an hourglass, pear, apple, or rectangle shape? Knowing this will guide you toward the most flattering styles.
Quality Matters: Investing in quality swimwear is crucial. Look for materials that are both comfortable and durable. This is where BeachCandy excels – using luxurious fabrics that feel great against your skin and will last for years.
Style & Comfort: While style is essential, don't compromise on comfort. The ideal bikini should not only look fabulous but also feel comfortable for all-day wear.
Mix & Match: Don't be afraid to mix and match tops and bottoms. This allows you to create a custom look and find the best fit for your unique body shape.
Support & Coverage: For those who need a bit more support or coverage, consider bikinis with underwire, adjustable straps, or high-waisted bottoms. BeachCandy offers a variety of options to cater to all needs.
BeachCandy Swimwear: Made for Women by Women
BeachCandy Swimwear is renowned among swimwear brands for our commitment to creating exquisite, customized swimsuits for women of all shapes and sizes. Established by designer Brit B., BeachCandy is dedicated to empowering women to feel confident and comfortable in their swimwear. Here's why we stand out:
Quality Materials: BeachCandy's swimwear is made from premium fabrics that are not only beautiful but also incredibly comfortable to wear.
Inclusive Sizing: We cater to a wide range of sizes, ensuring that every woman can find a bikini that fits her perfectly.
Supportive Designs: Our bikini tops are designed to provide support and security, without sacrificing style. Say goodbye to uncomfortable underwires and ill-fitting bathing suits!
Integrity: We're committed to using the best materials using fair labor practices as well as striving to be as eco-friendly and sustainable as we can. Our swimsuits are all made here in the U.S.
Here are just some of the standout bikinis from BeachCandy's collection: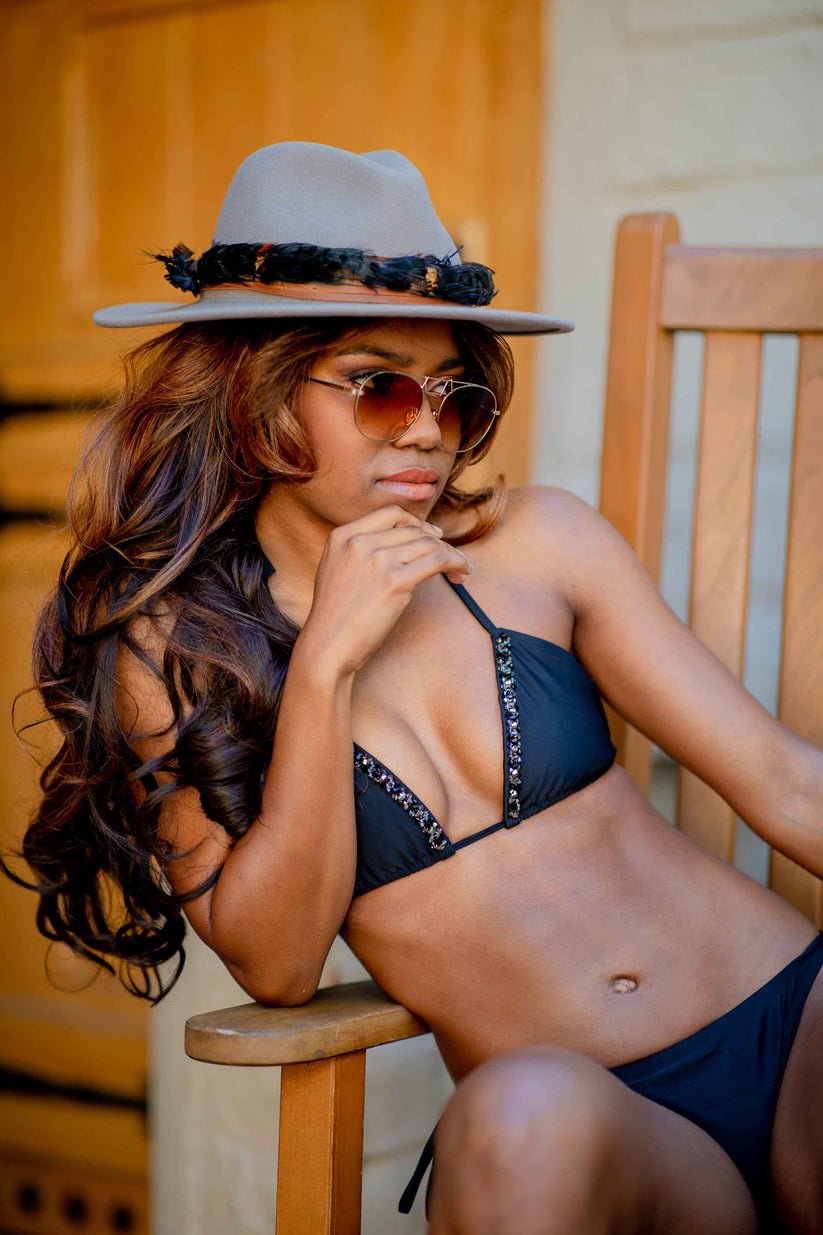 The ALEXA Triangle Bikini Top & String Bikini Bottom: This classic bikini features supportive triangle tops with the option to add push-up pads. The bottoms are available in full coverage or cheeky cuts, so you can choose the one just right for you.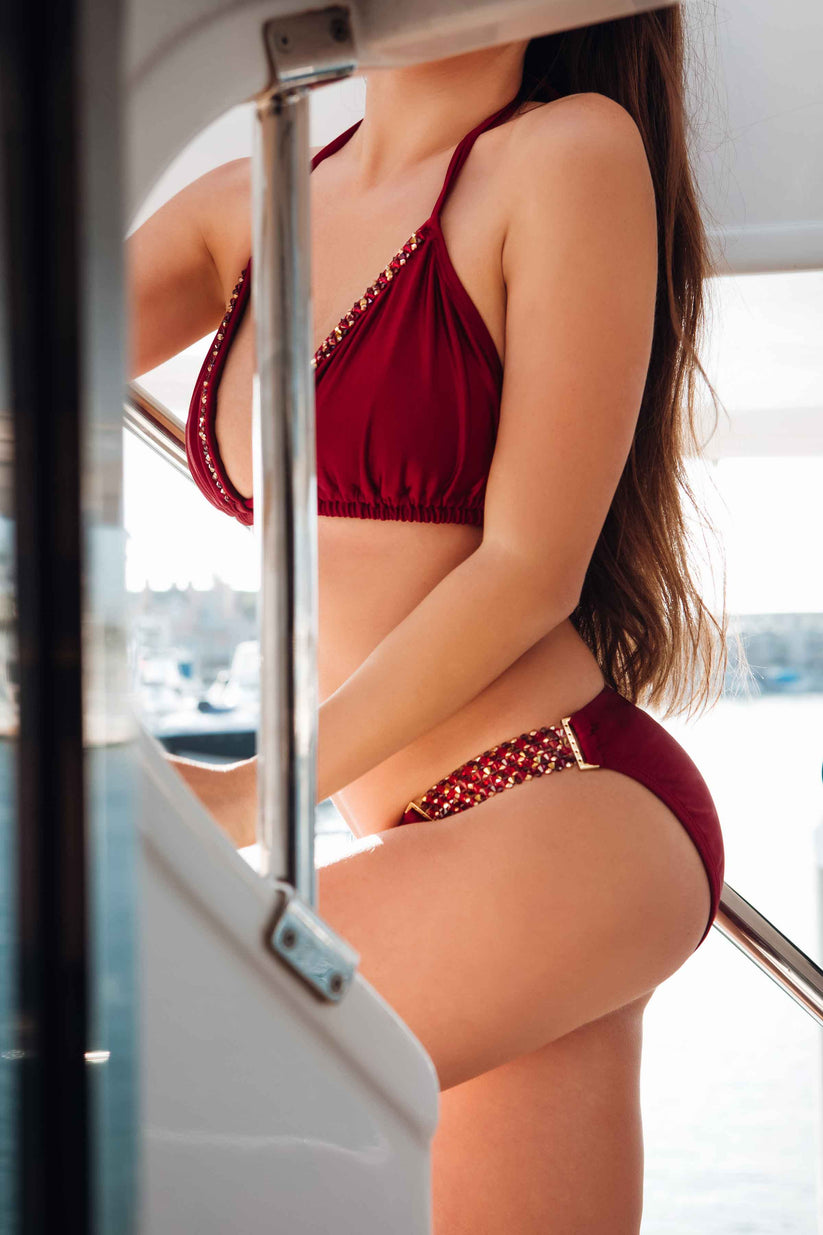 The "BRITB" VIP Swarovski Bikini: If you're looking for luxury and glamour, this eye-catching bikini is perfect. Adorned with Swarovski crystals, it's the epitome of elegance and style.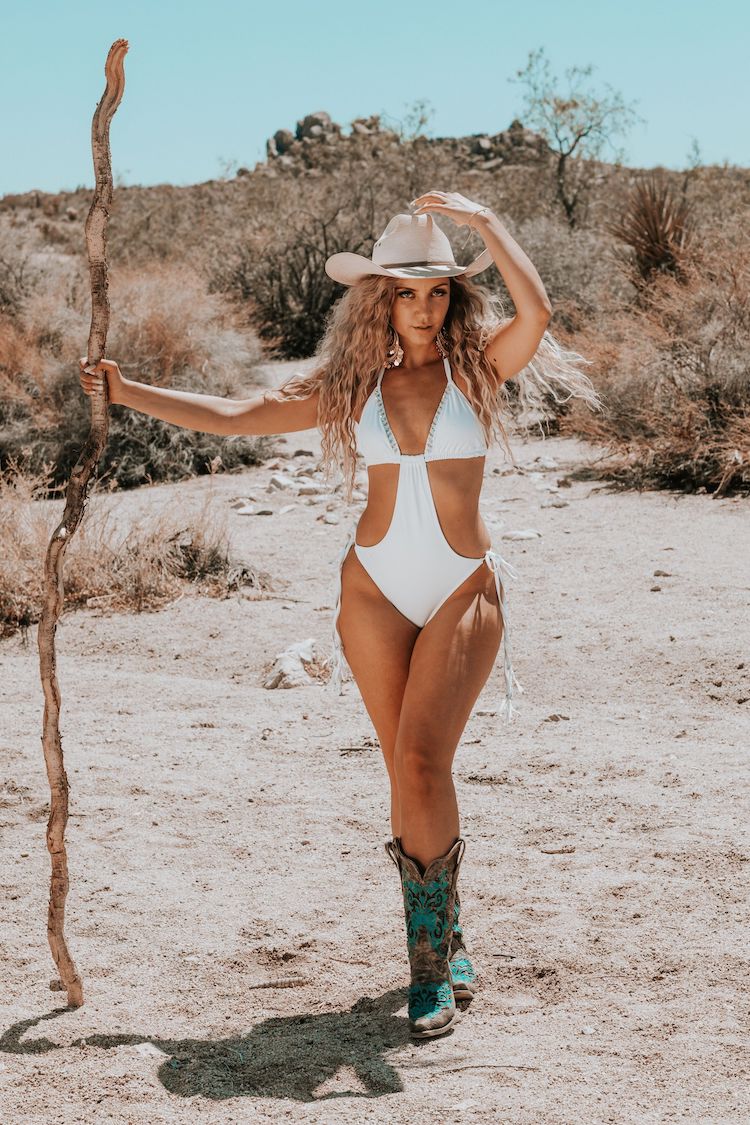 The SANTORINI Monokini: This one-piece swimsuit combines the best of both worlds – the style of a bikini and the coverage of a one-piece. It's perfect for women who want to feel sexy and confident while maintaining a bit of modesty.
The JENNA Handkerchief Tankini: For those who prefer a little more coverage, this popular tankini is a fantastic choice. It offers support, style, and the convenience of a tankini.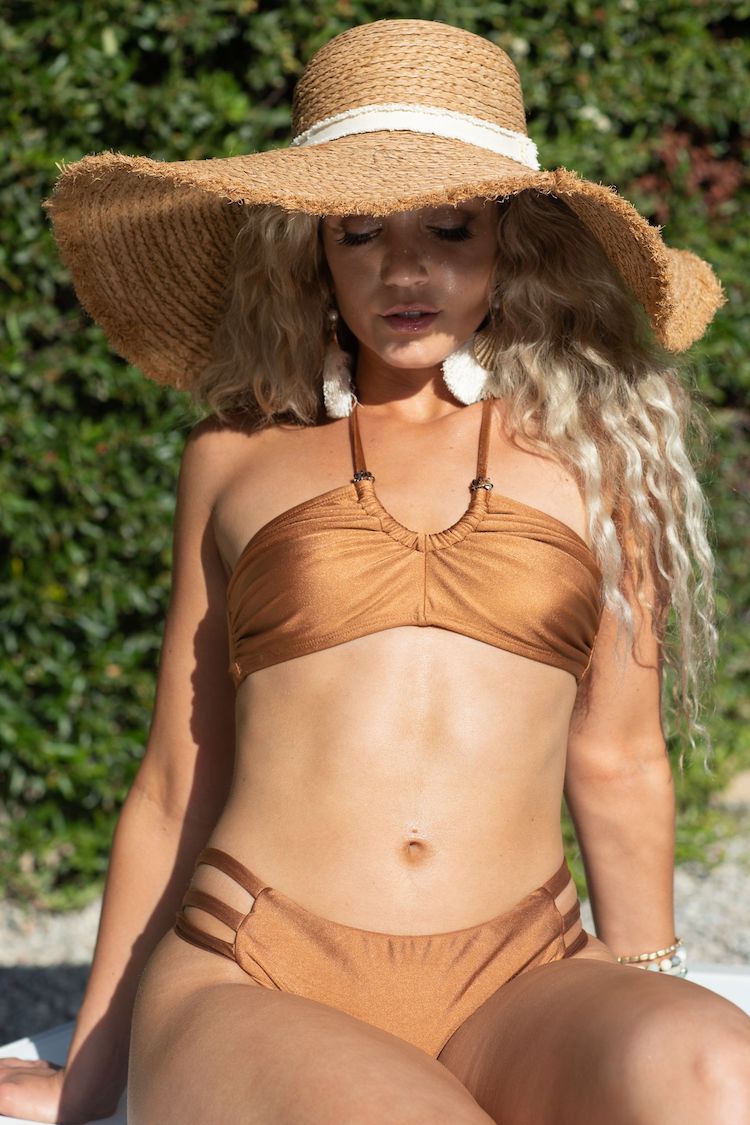 The JENN Slimming Scrunch Bikini Bottom: A popular choice for mixing and matching, this bikini bottom is known for its incredible fit and comfort. The triple side straps add a touch of sizzle.
The ASHLEY High Waist Bikini Bottom: Super cute and slimming, the ASHLEY gives you supreme coverage with a retro-chic style.
When it comes to shopping for the perfect bikini, BeachCandy Swimwear stands out as a premier choice. Our commitment to quality, customization, and inclusivity ensures that every woman can find her dream bikini. Remember to follow our bikini shopping guide and use it as a foundation to find the ideal swimsuit for your next beach vacation.
Whether you're looking for classic elegance, luxurious embellishments, or something in between, BeachCandy has you covered. So, get ready to hit the beach with confidence and style!
Additional Tips for Your Bikini Shopping Adventure
Now that we've explored BeachCandy's exquisite offerings and why they are a top choice for swimwear, here are some additional tips to make your bikini shopping adventure a breeze:
Stay Updated with Trends: While classic styles are timeless, it's also fun to stay updated with the latest bikini trends. Follow us on Instagram to see what's hot each season.
Don't Forget Accessories: Your beach look is incomplete without the right accessories. Consider a stylish sun hat, a beach tote, and some chic sunglasses to elevate your bikini style.
Plan Ahead: If you're shopping for a special beach vacation, make sure to plan ahead. Bikini shopping should be done with some time to spare to ensure that you have the perfect swimwear for your trip.
Be Confident: Remember that confidence is the key to looking great in any bikini. Choose a style that makes you feel amazing, and it will undoubtedly show in your demeanor.
Mix in Cover-Ups: A stylish cover-up can be a versatile addition to your beach wardrobe. Whether it's a flowy sundress or a chic sarong, it can provide some extra style and sun protection.
Stay Sun-Safe: While looking fabulous in your bikini is essential, remember to stay sun-safe. Don't forget sunscreen, a wide-brimmed hat, and proper beach footwear to protect your skin from the sun's rays.
In conclusion, the quest for the perfect bikini doesn't have to be daunting. With the right guidance, such as this ultimate bikini shopping guide, and by exploring the exceptional range of BeachCandy Swimwear, you can confidently step onto the beach with the perfect swimwear that suits your style, body type, and comfort preferences. So, embrace the sunshine, feel the sand beneath your toes, and enjoy the waves in style and comfort with BeachCandy's stunning collection of bikinis. Your perfect beach day awaits!
Also check out BeachCandy's Holiday Gift Guide 2023!